Vendome Mademoiselle Merlot sans alcohol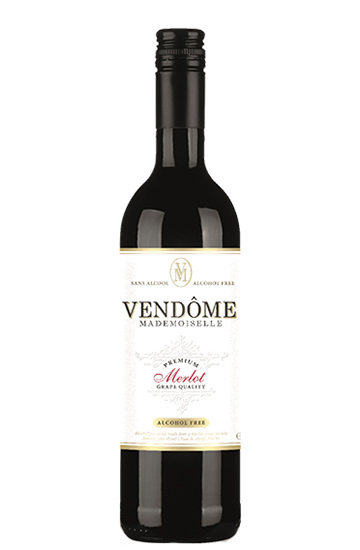 ORIGIN
Appellation: Germany
Grape Variety: Merlot
VINEYARD
The Merlot comes from a red variety, with small black grapes, cultivated on chalky soil of the La Macha region of sunny Spain.
TASTING NOTES
Deep, dense, ruby red, the Merlot offers a superb aromatic palette. It expresses itself through fruity aromas, including blackcurrants, blackberries alongside cherries and prunes. From the very first mouthful, the palate is marked by notes of leather, forest undergrowth and spices. The Merlot is subtle in the mouth with good balance, long in tannins and a dry finish.
PARING
This pleasurable, fruity and delightful wine, easy to drink, is recommended with nearly every dish, particularly meats cooked in sauce as well as game, and can be enjoyed at anytime.
SERVING
10 – 12 °C or 17 – 18 °C
AWARDS
※ SIAL innovation award – pairs 2014
※ HALAL certificate
Low in calories – 18kcal/100ml