Vendome Mademoiselle Classic Sparkling sans alcohol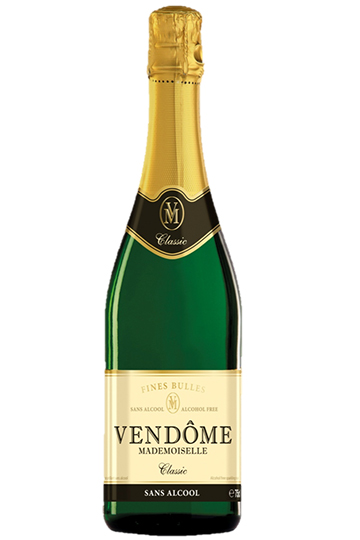 ORIGIN
Appellation: Germany
Grape Variety: Airen
VINEYARD
The classic is a sparkling wine made using an old variety still very much present in certain regions of Spain. The Airen is the most widespread variety in the region of La Macha.
TASTING NOTES
The classic, produced using round and plump grapes, is bright and has a beautiful white, crystaline colour with yellow nuances. It releases aromas of pear, melon, peach and white flowers. With its citrus-lime nose, this sparkling wine is delightful and delicate in the mouth. The lightness of the bubbles give it wonderful depth, freshness and smooth continuity.
PARING
It's a sparkling wine to enjoy as an apertif or with a dessert, fruity dessert. Simple and festive!
SERVING
8 – 10 °C
AWARDS
※ SIAL innovation award – pairs 2014
※ HALAL certificate
Low in calories – 26kcal/100ml