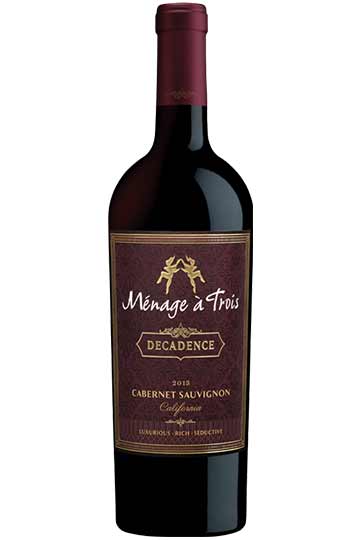 ORIGIN
Appellation: California
Grape Variety:84% Cabernet Sauvignon, 10% Petite Sirah, 6% Merlot
WINE-MAKING
To triple your pleasure, our winemakers add just a touch of Merlot and Petite Sirah to the Cabernet Sauvignon, giving the wine added depth and complexity. The wine is then infused with 70% French oak, which imparts a lavish mouthfeel and irresistibly sultry hints of vanilla spice. Every sip is proof that Decadence is liquid deliciousness.
TASTING NOTES
A dark ruby hue in the glass, this seductive wine arouses your senses with generous berry aromas kissed by bittersweet chocolate. Supported by an elegant structure, opulent black cherry, blackcurrant and blackberry flavors mingle with lavish vanilla spice on the palate before culminating in a smooth, lingering finish that leaves you wanting…more.