ALAMEDA Reserva Cabernet Sauvignon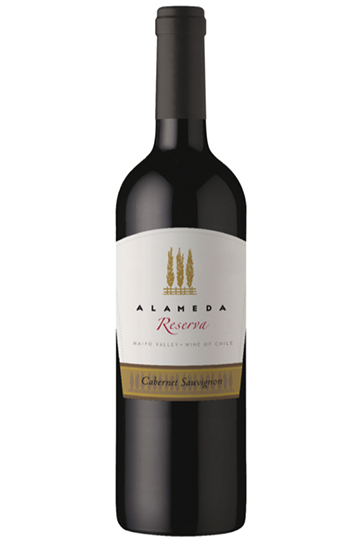 ORIGIN
APPELLATION: Maipo Valley
Grape Variety: Cabernet Sauvignon
WINE-MAKING
The grapes are harvested manually to ensure that they reach the winery in good condition. They are separated from the twigs and leaves and then crushed. The must is then subjected to pre-fermentative cold maceration for 4 to 7 days to achieve greater aroma extraction. and a light touch of leather and menthol, which allows us to appreciate its great persistence and specFermentation temperature is regulated at between 26 and 28°C. The wine is stored in stainless steel tanks and in casks for a few months prior to bottling.
TASTING NOTES
A deep red wine with ruby-coloured highlights, its aromas are reminiscent of black fruits such as maqui, blueberry and blackberry, with sweet notes of vanilla and fresh tobacco. It offers us very good structure and body, with flavours of dark chocolate, coffee and crystallised fruit, long persistence and a great finale in the mouth.
SERVING
Recommended for barbecued red meats, game birds, meat stews, well-seasoned dishes in general and beef empanadas. Serve at moderate temperature, between 16 and 18° C.